I am very thankful to
JEAN
and
JANICE
for the wonderful thought of spreading the Valentine love with and to me...My warm hugs!
Let me seal this Love entry with lyrics from a song I am listening to right now...
All my life it seemed
That something had been missing
I didn't know what to do
Days would pass me by
Each as lonely as the other
Until I met you
You opened the door
And let the sunshine in
My life will never be the same again
Now that I have you
Everything just seems so right
Now that I have you I'm alive
You are the song that
I'll be singing my whole life through
I'm living in a brighter world
Now that I have you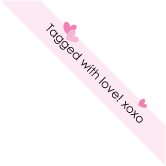 How to install the corner banner: Go HERE

***start copy***
Rules:
1) Once you're tagged, install the corner banner at your blog as a third party html code. (The corner banner need to stay at your blog for at least 2 weeks).
3) Add your blog/s with link/s to the Valentine's Lovers list and leave a comment at this post
HERE
.
4) Tag all your special friends.
5) Please remember to update your list regularly so that you would not miss out anyone in yourValentine's Lovers list. .
My tag list:
Everybody in my Roll of Great Sites and Bloggers! Be Happy and Stay In Love with Life, Family, and with Your Special Someone.
Valentine's Lovers list.